News
The 2016 breakthroughs in medical plastics . . . so far
There are still a few months of life left in 2016, but PlasticsToday has already logged a number of advances in polymer and materials science that could have a significant impact on medical technology. As we get ready for K 2016, which will bring a whole new bushel of product announcements, we thought it might be a good time to revisit some of the breakthroughs from the early part of the year, from resorbable electronic implantables to an elastomer with elongation properties that would make Mr. Fantastic envious.

New elastomers achieve unprecedented 5000% elongation at break
Materials technology company Gelest Inc. (Morrisville, PA) introduced in January a new class of elastomers that achieves unprecedented elongation and shape-recovery properties. The silica nanoparticle-reinforced material approaches 5000% elongation at break; for example, a two-yard piece of the elastomer can stretch the length of a football field and return to its original shape.
The ExSil 100 elastomer can be used as the base polymer in microfluidic devices, used for in vitro diagnostics, that can be stretched and rolled without failure, according to the company. Its properties also hold potential for wearable medical devices that can be stretched to suit various anatomies and next-generation prosthetics.
Implantable medical electronics that disappear when their job is done
Wireless brain sensors that incorporate bioresorbable electronics and materials have been developed by a team of neurosurgeons and engineers to temporarily monitor intracranial pressure and temperature. Once the implantable device is no longer needed, it is absorbed by the body, eliminating the need to surgically remove the device.
Scientists at Washington University School of Medicine in St. Louis and engineers at the University of Illinois at Urbana-Champaign produced a clinically usable pressure sensor consisting of a polylactic-co-glycolic acid membrane suspended in a frame of silicon and magnesium. The pressure of the surrounding fluid causes the membrane to bend, which changes the electrical resistance of an adjoining silicon sensor. The whole device is then wrapped in a watertight polymer that gradually erodes over a few days, setting the lifetime of the sensor.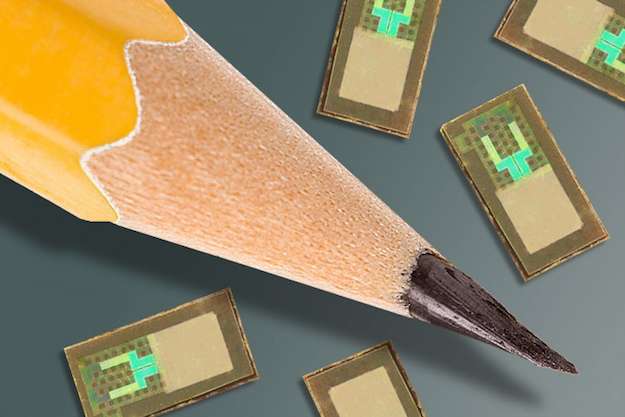 New stretchable polymer extends design possibilities of wearable electronics
Panasonic (Osaka, Japan) has developed a soft and flexible resin that can repeatedly stretch more than 2.5 times its relaxed length and return to its original form without damage. Combined with a transparent electrode material and material paste, also developed by the company, the insulating material made of a thermoset resin augmented by Panasonic's proprietary resin design technology is well suited for wearable devices, among other applications.
Thin polymer film could revolutionize monitoring of cancer patients
A thin, stretchable polymer-based film that can coil light waves like a Slinky could make monitoring of cancer survivors more effective and less expensive. Developed by University of Michigan chemical engineering researchers, the film provides a simpler, more cost-effective way to produce circularly polarized light, part of a process that could eventually provide an early warning of cancer recurrence.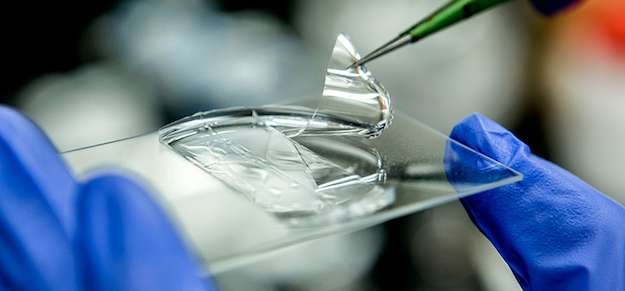 Researchers took a rectangle of PDMS, the flexible plastic used for soft contact lenses, twisting one end 360 degrees and clamping both ends down. They then applied five layers of reflective gold nanoparticles—enough particles to induce reflectivity, but not enough to block light from passing through. Alternating layers of clear polyurethane were used to stick the particles to the plastic. Finally, the researchers untwisted the plastic. The plastic can be stretched and released tens of thousands of times, altering the degree of polarization when it's stretched and returning to normal when it's released.
New hybrid polymers could herald third chapter in polymers history
A new class of material—hybrid polymers, which incorporate rigid and soft nano-scale compartments, the latter of which can be removed and regenerated—has been developed by researchers at Northwestern University (Evanston, IL). Capable of contracting and expanding like muscles and rapidly responding to environmental stimuli, the polymers could be used one day to develop implantable materials that function in a life-like way and for use in drug-delivery and energy-source applications.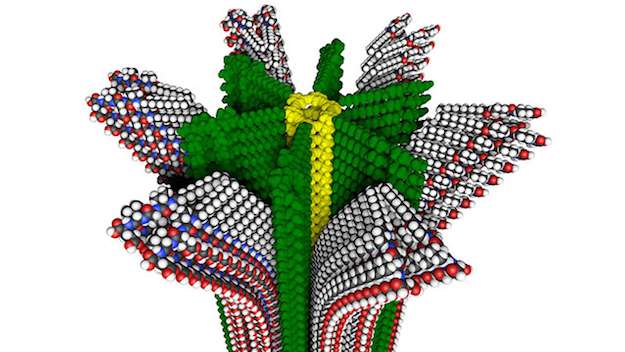 Sponge-like polymer graft may transform spinal surgery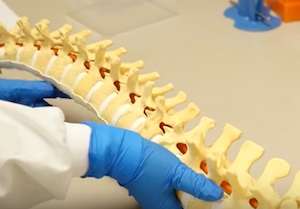 Scientists have engineered biodegradable polymer grafts designed to repair damaged vertebrae in the spinal column. Typically, surgeons insert expandable titanium rods via minimally invasive surgery (MIS) to treat this condition.
Lichun Lu, PhD, of the Mayo Clinic, and her postdoctoral fellow, Xifeng Liu, PhD, sought a more affordable material that would work with the MIS approach. They found a material that could be dehydrated down to a size compatible with posterior spinal surgery, and, once implanted, would expand to replace the missing vertebrae through fluid absorption.
Source: www.plasticstoday.com