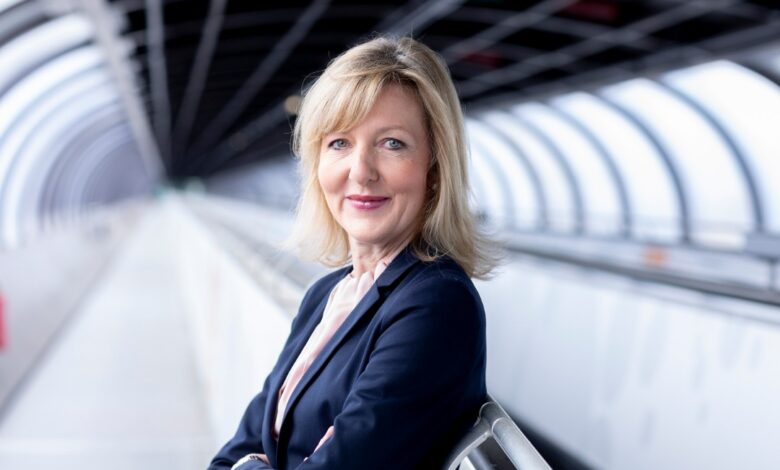 Baspar / Iranpolymer K exhibition is being held for the 70th year now. How did it feel to hold this exhibition after a long pandemic?
Petra Cullmann: K 2022 comes at precisely the right point in time to provide the plastics and rubber industry with orientation again after the pandemic-induced changes. People are longing for real platforms with technology and products to touch and try out, with intense discussions on the key issues of their sectors, face-to-face networking and also the coincidental encounters that only international trade fairs can bring. Fortunately, K can be held again in Düsseldorf in line with its traditional 3-year cycle and on the scheduled dates from 19 to 26 October. To us as trade fair organisers, of course, nothing could be nicer than being able to offer a home to such leading global trade fairs and see full exhibition halls again. The international trade fairs we have organized so far in Düsseldorf in 2022 met with great success and approval of the respective sectors. K 2022 is fully booked and will again occupy the complete fairgrounds. All the more reason to celebrate the 70th anniversary of K 2022 this year.  
The aspects and motto of this exhibition have been announced. What will be the main subjects of exhibition alongside these aspects? 
PC: K 2022 will focus on the three major guiding topics of the industry: Circular Economy, Climate Protection, Digitalisation. The way these issues are consistently addressed at K in Düsseldorf impressively proves how committed the industry is to assuming responsibility and how plastics will in future no longer be the problem but rather part of its solution. Never in the history of plastics has the industry worked so consistently and cohesively towards joint, global solutions. K 2022 provides the only global platform for this exchange to network with each other and to address forward-looking topics and concretely tackle projects in face-to-face exchange. 
How many participants from how many countries will participate on how much space? Will all the main market leaders participate too? 
PC: K in Düsseldorf will once again showcase the "Who's Who" of the international plastics and rubber industry – with a degree of internationality found nowhere else but in Düsseldorf. K 2022 will thus welcome 3,000 exhibitors from 60 countries. Once again especially well represented will be suppliers from Europe, in particular from Germany, Italy, Austria, Turkey, the Netherlands, Switzerland and France as well as from the USA. Likewise, the number of enterprises from Asia has remained at a constant high for several years now. Especially China, Taiwan, India, South Korea and Japan will make an impressive appearance. The exhibitor database is already online at http://www.k-online.com/2410
This exhibition has always been important for Iranians. Are there any Iranian participants in K2022? 
PC: Iran has been traditionally represented with its manufacturers at K in Düsseldorf for many years now. Eleven enterprises from Iran will participate at this year's K. This means we have nearly matched the so far highest participation from 2016 with 14 exhibitors. K 2019 saw eight Iranian exhibitors take part. 
K exhibition reveals the future of the plastic industry every three years. What special programs will companies showcase this year and what direction will they take?
PC: The three guiding topics Climate Protection, Circular Economy and Digitalisation will also feature prominently in the Specials at K 2022. The core message of the official Special "Plastics Shape The Future" reads: "The Sector is undergoing a fundamental transformation towards a Circular Economy." There will be both themed days and moving image presentations, but also panel discussions and infotainment. Industry experts will flag up how plastics can be designed sustainably in future, which developments are already taking shape today and which visions stand a chance of being put into practice tomorrow. The Special is a project initiated by the German plastics industry under the auspices of Plastics Europe Deutschland e.V. and Messe Düsseldorf. The conference language is English.
The "Circular Economy Forum" celebrated its successful debut at K 2019 and will also prove an attraction this year on the outdoor space between Halls 10 and 16. 13 member companies of the German Engineering Federation (VDMA) will present a real circular economy experience and cover the theme in all its complexity. 
The Special "Science Campus" at K 2022 is synonymous with the dialogue between research and business. Here exhibitors and visitors will be given the opportunity to gain a concentrated overview of scientific activities and findings in the plastics and rubber sector and to enter into dialogue with research and business.  
Beyond this, K in Düsseldorf also provides a forum for the start-up community. The "Start-up Zone" in Hall 8b will celebrate its premiere highlighting how young, creative and innovative enterprises, in particular, have signed up to solutions of relevance to the future of the plastics industry. 
Chinaplas has become the biggest plastic exhibition in terms of global reach. Is Messe Düsseldorf trying to maintain its superiority in technology? Does it still consider itself the number one plastic exhibition? 
PC: Yes, because K Düsseldorf is the uncontested No. 1 worldwide and it is so in many ways. Nowhere else is international attendance as high as here, for example. This diversity ensures that the global ranges of products, solutions and trends are mapped in their entirety – even in special segments. Furthermore, K in Düsseldorf can still boast the greatest number of world premieres and the highest degree of innovation. And K also justly claims thematic leadership since it always has its finger on the pulse, is future-oriented and in intense exchange with science, research and the most relevant international associations – a fact also reflected by the Specials at K 2022. K is the place where the pioneering visions are jointly formulated by the sector. 
Last not least, the international origin of visitors is unique with 169 nations represented at the latest edition. The number of executives among the K visitors was even slightly up yet again in 2019: 76% represent top or middle management.  
Have you planned any special facilities for K visitors? 
PC: K 2022 offers the plastics and rubber industry genuine added value both on site in Düsseldorf and 24/7/365. Even today there are many possibilities for optimally preparing for the trade fair in autumn or finding out about latest developments and burning issues for the sector. 
For instance, K in Düsseldorf operates its own online magazine, the K-MAG. This targets all industries associated with K and features facts, news, stories and trends from the international plastics and rubber industry in German and English all year round. K-monthly is the name of K's new Newsletter. Those subscribing to it will receive not only the most riveting news and stories from the K-MAG via e-mail every month, but also current information on K in Düsseldorf and on the international trade fairs of the K-Global Gate family of products. Truly a highlight setting the scene for this major sectoral event, is the K-Talk. Since January 2022 the K-Talk has featured exciting digital live discussions with changing panellists such as industry experts, scientists, user industry representatives and media every month until the trade fair. In doing so, the K-Talk shares valuable insights, focalises the areas of application of plastics, flags up technology innovations and debates key challenges for the sector.  
Anyone wishing to keep right up to date in the run-up to, but also during, their visit to K should download the K-App to their smartphone (for iOS and Android). It allows all interested parties to permanently and conveniently access news from the entire industry and helpful tips related to the trade fair. The exhibitor database can also be accessed with this App. Finally, the Matchmaking-Tool enables trade visitors and all exhibitors to search K-online from August 2022 for suitable contacts and make appointments for the duration of the trade fair right away.