News
Harvard's Colorful Library Filled With 2,500 Pigments Collected from Around the World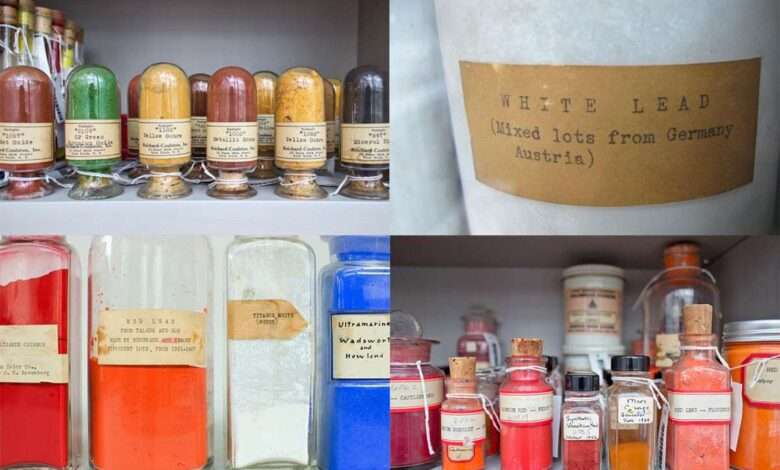 The Straus Center for Conservation and Technical Studies at Harvard Art Museums is different than many other departments of its kind—its visible to the public. The public can witness conservators at work as well as view 2,500 pigment samples placed in tincture bottles and housed behind tall glass cabinets. The samples are reminiscent of medicine bottles—the concentrated material's purpose to help doctor paintings rather than physical maladies.
[EasyDNNGallery|2180|Width|400|Height|400|position||resizecrop|False|lightbox|False|title|False|description|False|redirection|False|LinkText||]
The Forbes pigment collection was started by its namesake—Straus Center founder and former Fogg Art Museum Director Edward Forbes who began the collection at the turn of the 20th century. Forbes would collect his samples from his travels all over the world, bringing back pigments from excavated sites at Pompeii to rare lapis lazuli found in Afghanistan.
Forbes' interest in pigments and preservation started with his purchase of the 14-century Madonna and Child with Saints, which he bought in 1899 and noticed that the painting was quickly deteriorating. Harvard Art Museums research curator Francesca Bewer remarks in her book A Laboratory for Art: Harvard's Fogg Art Museum and the Emergence of Conservation in America, 1900-1950 that he then began a passionate exploration into the process of how paintings were made. This interest led to collecting the materials needed for the preservation of fine artworks alongside his own collection of early Italian paintings.
"Every time he traveled he would bring things back with him," Senior conservation scientist Narayan Khandekar told WBUR. "And these are Japanese pigments and binding media that were collected in the 1930s. And we have one of our prized possessions, this ball of 'Indian yellow,' which is made from the urine of cows fed only on mango leaves."
The production of Indian Yellow has ceased because of its harmful effects on cows, but ancient pigments are not the only focus of the collection which stopped amassing samples after World War II. Recently however, the collection has begun to collect contemporary pigments that have come into the market over the last 70 years including modern and synthetic pigments.
If you can't make it to the floor-to-ceiling display of pigments in Cambridge, you can see an electronic directory of these materials through the Museum of Fine Arts, Boston's Conservation & Art Materials Encyclopedia Online (CAMEO) database here. (via Hyperallergic)
source: www.thisiscolossal.com/